i haven't posted any cute kawaii prints lately , so now i present u the cutest, weirdest prints ever!!
look at this, true kawaii genius !!! all the classic flavours: Chocolate,Strawberry and Vanilla :)
yummy candy apple guy!! he might have it hard, trying not to eat himself:)
Panda !! squeee!!! so cute!!
How many cute things can you count in this adorable painting ? i counted a million :)
this is the most kawaii and friendly dragon i've ever seen!!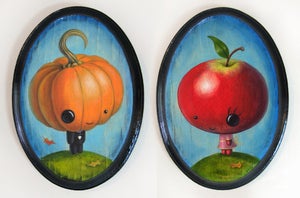 pumpkins and apples!! but have u ever seen people as pumpkins and apples , and their so cute!!
ahhh!!!! it's the revenge of the lychee zombies!!! take cover!!
be sure to keep updated here for more cuteness:)